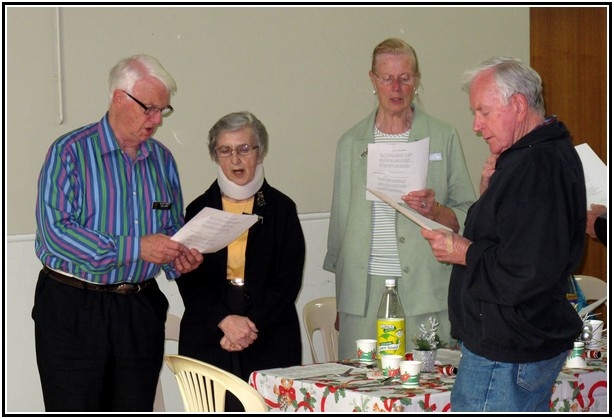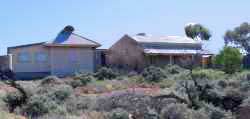 John Flynn's first Inland Mission at Baltana as it is today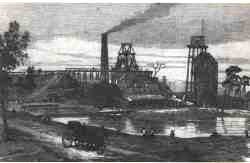 Timor in its heyday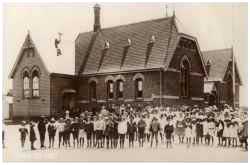 How it was at school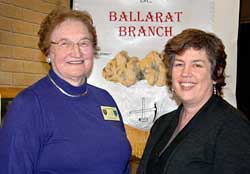 Clare Gervasoni (right) with Val D'Angri, who like her mother, attended the Ballarat School of Mines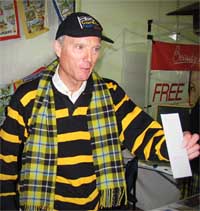 Neil as Salesman for the CAV at Port Arlington last year
Bill, his wife and niece Helen

Our President with John Harrison
Christmas 2011

47 people gathered at our Christmas meeting on Saturday 3rd December 2011, including the CAV President Neil Thomas and his wife Marilyn, Secretary of the CAV June Whiffin and the Patron of the CAV, Bill Phillips with his wife Gwen.
It was good to have visitors from Melbourne, Geelong and Bendigo join with us, at our last meeting at St Cuthbert's.
The Hall looked splendid with beautifully decorated tables prepared by the Committee Members.
As has become the norm for Ballarat, through the generosity of members in the provision of food, a sumptuous feast was enjoyed by all.
There was rousing singing of "Trelawney" and members enjoyed the community carol singing, accompanied by Joy Menhennet on the piano.
It was a wonderful evening of fun, fine food and Cornish fellowship.

To view the gallery of images Click Here


October 2011 Speakers

October's meeting included two very interesting talks.
The first by Robyn Coates detailed the finding of a grave of a Cornishman in outback SA at Beltana. Named Edward Commins he had been born in Bodmin in 1844 and died in 1881. Robyn showed and explained how she had used the internet to discover more of Edward's life including when and where he was born, where he went to school, his marriage, his appointment as Clerk of Courts at Beltana and his subsequent death.

The second speaker was the Patron of the Cornish Association of Victoria, Bill Phillips.
Bill's topic was, 'The Almost Forgotten Town of Timor' which was located about 11 kilometres from Maryborough, on the Dunolly Road.
Timor (Tie-more) had several names – Chinaman's Flat, Cox Town, and Bowenvale, (named after the Governor who once visited Maryborough).
In the late 1800s, Timor had a population of 27 000 and was a thriving town with churches, hotels, schools and shops as well as the mines in the area.
Bill shared information about the various mines that had operated and included photos of trips undertaken with the Ballarat Branch of the CAV.
Timor is no more but the local school and cemetery still bear the name.

A wonderful high tea and fellowship followed.


August 2011Speaker

Following a rousing rendition of 'Trelawney', members heard of the recent travels of member Barbara McDonald to Cornwall (and other parts of the UK), in our Cornish Spot.
Growing up in the UK, Barbara was evacuated to St Issey in Cornwall during WW2 and settled in Australia in 1950. She was able to locate her father's and grandfather's graves and visited her former Primary School at St Issey. Barbara shared with us some of the stories associated with both her and her late husband's family including one who was hanged, drawn and quartered and one who was transported to Norfolk Island as a convict.

Clare Gervasoni, the curator of Art and Historical Collections at Ballarat University, was our speaker and she gave us an interesting and informative talk about the Ballarat School of Mines. As the first School of Mines in Australia, it had a world wide reputation for excellence.
We heard of former scholars with a Cornish Heritage – Robert Malachy Sergeant, Henry Richard Caselli, Samson and William Keast, Thomas Bath, John Rowe, Edith Curnow and her daughter Val Lawn (Val D'Angri - a current member).
Claire presented the group with a book on the history of the School of Mines.


June 2011 Speaker

Neil Thomas, President of the CAV, was the speaker at the June meeting following the AGM where all office bearers were re-elected.

Neil spoke about the proud independent Cornish village, Newlyn, noted for the voyages of the "Mystery" in 1854 and "The Spirit of Mystery" in 2008.
A lesser known voyage was that of the lugger, "Rosebud" in October 1937, which sailed from Newlyn to Westminster pier, London, to protest against the Penzance council's plan to demolish old houses in Newlyn and replace them with council flats, at the top of a hill away from the harbour.
The petition was partially successful.
The Star Inn, noted for the meeting place of the "Mystery" sailors survived as well as a number of houses used to accommodate returned servicemen after W.W. II.

The Newlyn school of artists also supported the retention of the heritage buildings, many of which, together with fishing boats, feature in paintings held in art galleries, including Geelong and Bendigo.


April 2011 Speakers
Dr Bill Pryor was the guest speaker. Training as a Vet and with a variety of employment in both Australia and overseas, Bill returned to Scotsburn and was elected to the Buninyong Council in 1987.
This followed a family tradition in local government as his grandfather had been Mayor of Ballarat on three occasions.
From there began a journey resulting in the establishment of the University of Ballarat, officially opening in 1994 with Geoffrey Blainey as the Chancellor and Bill as the Vice Chancellor. It was the sharing of highlights of this journey that made the subject of his presentation.

Val D'Angri preceeded Bill's address with a short Cornish segment on some of the history of her Lawn family.

Mr John Harrison, apothecary at Sovereign Hill, was the entertaining speaker at the February meeting.

On the Goldfields, an apothecary was called upon to treat a variety of medical conditions and disorders using concoctions made from plants and herbs and also ready made remedies.

These included coughs and colds, dropsy, rheumatics, women's problems, treatment of wounds and injuries as well as repelling witches!

An apothecary trained for 6 to 7 years and was also able to make insect repellent, snuff, dyes, soaps, tonics and purgatives.

Members were able to remember some of the remedies offered:
Dr Hollaway's Pills (which cured from A to W – ague to weakness); Dr Morse's Indian Root Pills (made from Indian sarsaparilla); Syrup of Figs and Beechams Pills.

Other less well known preparations were Mariani's Coca Wine (made from wine and cocaine); Seven Sutherland Sisters Hair Grower (one of the ingredients being hydrochloric acid); Cocaine Tooth drops, and Opium preparations with alcohol to soothe coughs, teething and sleeplessness in babies!!

John produced a variety of herbs and plants from his basket of bags and had everyone guessing as to what the plant was and what it could be used for.

It was a most enjoyable session and ended all too soon.

In the second half of our meeting, Joy Menhennet shared with us some information about Rev. William James Palamountain, who was born at Little Bendigo, near Ballarat in 1864. William Palamountain entered the ministry of the Methodist Church in 1886, and served in various circuits He was a noted evangelistic preacher and the establishment of Epworth Hospital in 1921 was the result of his vision.

Joy read to us an article, 'Memories of Little Bendigo – Some Cornish Personalities', written by William Palamountain and printed in the Argus on 20th May 1933.