2014 Speakers and Reports
Christmas Celebration

The Ballarat members were joined by members from Bendigo, Geelong and Melbourne for yet another memorable occasion.

Joy Menhennet welcomed everyone, a short Ballarat business meeting was conducted before Wendy Benoit read excerpts from stories of Cornish Christmas traditions.

She then introduced the community carol singing.
After a hearty sing the appetites were ready to enjoy a sumptuous meal in keeping with the Ballarat tradition.


Victorian President, Beryl Curnow with Joy Menhennet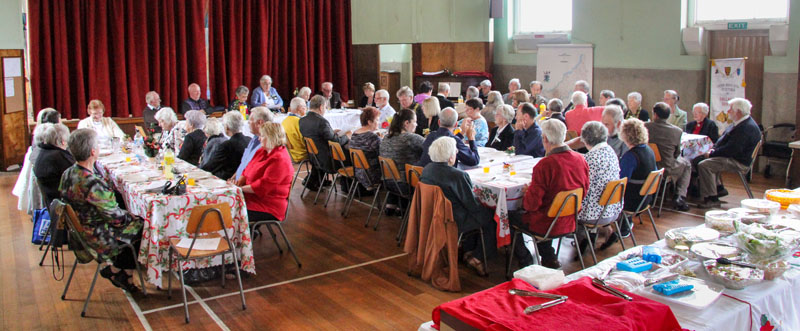 Members listen attentively before the celebrations begin

25th October - Coach Tour
On Saturday 25th October, twenty-nine people from Ballarat, Melbourne and Geelong gathered at Skipton Street for our annual coach trip. This year the destination was Buninyong and its environs, and our guide was Doug Bradby, a local historian, author, volunteer at the Gold Museum and former school teacher and we were delighted to be driven again by Ian Watson.
Our first stop was Magpie, then to Doug???s home, a converted Wesleyan Church constructed in 1864.
Alongside the home was a replica school building, filled with many items of memorabilia.
Here we were entertained by Doug with local facts and history tales and were given the opportunity to browse through Doug???s collection.
We journeyed on to Buninyong.
Some of our party did a short tour of the Old Buninyong Courthouse which operated from1858-1886 and this was later fitted out as part of the Buninyong Butter Factory which operated from 1902 -1908.
We had an enjoyable time over lunch in the picturesque Botanical Gardens, in glorious sunshine.
We drove through the Buninyong Cemetery passing the Hiscock Cairn erected where Gold had been discovered byThomas Hiscock, Doug told us of the accident at the Scottish and Cornish Mine in November 1865, where a young lad, Charles Avery, who was tending the furnace, which drew air down into the shafts, allowed the fire to get out of control causing a large fire. Four miners were killed and reports of their deaths and subsequent inquests can be found at TROVE. There are memorial plaques in the Buninyong Cemetery.
On our way back to Skipton Street we passed through the former mining districts and townships of Durham Lead, Garibaldi, Enfield and Napoleons and saw the huge wind farm at Mt Mercer.
We all had a wonderful day and votes of thanks were extended to Joy Menhennet for organising the day.

Below are 3 sample images of the trip but to see a slide show of 63 photos taken please click here.


August Meeting

NEIL THOMAS
Neil, dressed in a PNG tee shirt, sporting a sunhat made from tapa and wearing a seed necklace - one of two presented to him - shared his adventures experienced in Papua New Guinea.
Neil's efforts of selling Christmas Hams over five years, had raised in excess of $35 000 for his Rotary Club and this money was used for a village in Oro Province allowing the purchase of a mobile saw mill and two Toyota vehicles, as well as assisting the village school. Oro (meaning welcome) is home to one of the largest butterflies "the Queen Alexandra" with a wing span of about a metre.
In 2007, cyclone Guba with excessively heavy rain and high sea levels caused extensive flooding and massive damage in the province with an estimated 145 000 people being affected and the loss of at least 200 lives.
Neil and his friend Donald Johnston, an Anglican Vicar, journeyed from Port Moresby to Popondetta and were fortunate to gain seats on the plane which was over-booked. Donald had arranged to meet with the then Archbishop of Canterbury, Rowan Williams, who was visiting a missionary and Neil believes that two people gave up their seats to allow this to happen. Rowan Williams is a Welsh Bard.
Donald had been the Headmaster of the Martyr's Memorial School after the 2nd World War.
Views from the plane of the Kokoda Track in the Owen Stanley Ranges showed the rugged terrain they were visiting.

Popondetta Cathedral was like an "open hay shed" and the local people gave the Archbishop a wonderful welcome which Neil shared through a visual presentation.
Crossing the Bariji River to reach Sariri Village was done by means of a raft donated by the Geelong East Rotary Club. This was kept for special visitors.
The children from grade three and above and their teacher had to swim across the crocodile infested river to attend school. Now a new school has been built and a teacher provided by the PNG government.
One of the goals of the trip for Neil and Donald was to develop a constitution for the village.
The Rotary Club arranged for Sariri Village to be surveyed and the villagers have plots of land - 50 metres x 150 metres where the villagers grow produce for sale in the local market. The soil is very rich and yields more than one crop per year.




Neil, Joy and John


The mobile saw mill has enabled the community to harvest and mill timbers for their own homes and also sell on the open market. The houses made from traditional products last about 5 years as they are eaten by termites. Each village family needs to save enough money for the galvanized roofing. So far three houses have been built and two more are on the way.
Neil showed pictures of their vehicle being loaded with heavy rocks to enable them to cross the Pongani River and the local Public Motor Vehicle, licensed to carry twenty but with goodness knows how many aboard.
Neil was fortunate to visit the Bomona War Cemetery where he located his father's cousin's grave - Raymond Stanley Thomas - and also the grave of Bruce Kingsbury, winner of the Victoria Cross.
Various photos of The New Guinea Martyr's Memorial Chapel commemorating those Anglican clergy and Missionaries who were killed by the Japanese in July/August 1942 concluded Neil's talk.
These included Rev Henry Matthews, from Moyston, whose family had a Cornish connection; Vivian Barnes Redlich (Priest of Sangara), Sister Mavis Parkinson and Sister May Hayman (who was engaged to Vivian Redlich).

Joy thanked Neil and presented him with a copy of Our heritage, Our Treasure

JOHN HOSKING
John Hosking, a Cornish born mining engineer, spent his early married life in Nigeria after he and Sandra married in 1965. One of their daughters was born in Harare and one in Cornwall.
Many Cornish families had humble beginnings and John and Sandra's families were no exception.
His father was Henry Paul Richmond Prisk who was a barrister. His mother and father separated and John took his step-father???s name of Hosking.
His mother, Natalia Jilbert, was born in St Petersburg and her father was employed by Nobel and ICI. During the Russian Revolution they returned to Cornwall before going to Austria.
John highlighted the changes in surname spelling Jilbert, Gilbert, and Jelbart.
John and Sandra???s extended families are typical of the Cornish diaspora and live in many countries ??? Iceland, France, the UK, Canada, Nigeria and Australia.

Joy thanked John for his contribution and interesting insight into his family.



June Meeting and AGM
During the AGM, the President of The CAV, Robert Gribben, congratulated retiring President John Mildren on his twenty-one year's outstanding service as president of the Ballarat Branch and presented him with a framed certificate as a Life Member of the Branch and native flowers.

Office Bearers elected unopposed:-
Chairperson - Joy Menhennet.
Vice Chairperson - Wendy Benoit.
Secretary - Lenice Stuchbery.
Treasurer - Ian Jennings.
Committee members - Robyn Coates, Olive Hailes, Beverley Hocking, John Hosking, Lorice Jenkin, Keith Lanyon, Jeff Menhennet, John Mildren.


Robert Gribben presenting to John Mildren


Reports for the year past were presented by John Mildren, Treasurer Ian Jennings and Librarian Wendy Benoit. These will be included in the minutes circulated to members.
During the General Meeting it was decided to hold future meetings at 3.30 pm followed by High Tea. This should make it easier for many members especially during the chilly winter months.

Guest Speaker, Robert Gribben's talk was about building the Royal Albert railway bridge, across the Tamar River, linking Saltash, Cornwall with Plymouth, England. This was a remarkable engineering feat and is now a tourist attraction. Members were very interested and found the talk most informative.


April Meeting
Cornish Segment
LES GEORGE AND HIS BAWDEN FAMILY
Les George gave us a wonderful insight into his Bawden Family particularly Llewellyn Bawden, his great grandfather.
Les had information that Lawrence Bawden who was born in 1650 married Loveday Humphrey in 1670 in Camborne, Cornwall and their descendants lived in and around Camborne for many years.
Les is fortunate to have his great-grandfather's diary beginning in November 1851. Llewellyn was born in 1833 at Treskillard to Henry and Jane James and was the youngest of 10 children.
Before the age of one, the family moved to Pengegon. His education began at Tuckingmill School and the family were regular attendees of both the Wesleyan Sunday School and Chapel.
In the early 1840s reports from America were very favourable and the family decided in 1842 to join the throngs travelling to the USA and left in a ship for Quebec. This was a very brave move as Henry was aged in his mid-fifties at the time and Llewellyn was aged nine. The ship had carried timber to England.
What an adventure it must have been for a young boy as he saw icebergs over 60 feet high near Prince Edward Island, travelling along the St Lawrence River, and viewing Niagara Falls cascading hundreds of feet.
The family settled in the Galena Mining District in Illinois and are listed as farmers in the 1850 census. In this area there were many people from Camborne and other Cornish towns.
Llewellyn travelled south to Central America, crossed the Panama isthmus and then caught a steamer to San Francisco and after mining for a time in California boarded a ship for Australia, landing at Sydney where he found the women to be decadent.
Travelling to Melbourne, he walked to Bendigo and then Ballarat, settling at Madman's Flat (Canadian) in 1853.
Family understanding is that he was at the Eureka uprising but not an active participant.
In 1857 Llewellyn went to the Black Lead diggings and subsequently was employed by the Scottish and Cornish Mining Company.
In 1861 he made a brief trip to the Gold Rush in New Zealand.
In 1864 he married Elizabeth Hall and was aged 28.
As mining was declining, he decided to take up farming at Doobobetic (near St Arnaud) and they dismantled their house and packed it and their furniture onto a wagon and travelled with a cow for fresh milk.
Llewellyn kept in touch with his American family and in 1905 at the age of 70 he decided to visit.
He caught a boat from Sydney to San Francisco and then by train to Galena in Illinois to surprise his brother.
Llewellyn Bawden died in 1926 in St Arnaud and his wife Elizabeth died ten years later.


| | |
| --- | --- |
| Les George and John Hosking with his wife | Dennis Spielvogel with John Mildren |
Guest Speaker - Dennis Spielvogel
Our speaker at the April Meeting was Dennis Spielvogel and he was accompanied by his wife Veronica.
Dennis known to many in the audience, as Spiv, was an entertaining speaker, who whilst he had Austrian/ German ancestry on his father's side had Cornish ancestry on his mother's and he shared with us some photos of the family home at St Hilary.

Nathan Spielvogel was the grandfather of Dennis and it was of him that Dennis spoke.
Nathan was born in Ballarat in 1874, the son of Newman Frederick Spilevogel and his wife Hannah (nee Cohen) and they were members of the Jewish Community.
Nathan attended Dana Street State School and whilst a student witnessed the death of his brother, Moshey, in a playground game.
He trained at Dana Street in 1892-95 as a pupil-teacher and then teacher assistant and went to teach in the Wimmera near Dimboola at Brim Springs and Warkool where he taught for two days at one school and then travelled between the two schools on horseback the next day and taught at the other school for two days. One hot day he had a visitor and not knowing who he was offered to leave the children at work and visit the local pub for a cold drink. His visitor turned out to be the local inspector.

Nathan had his first story published in The Ballarat Courier in 1894 (a Christmas Story) and this was the beginning of a long career as an author in the Bulletin, The Dimboola Banner, the Jewish Press, and other newspapers as well as published books of short stories and prose. He had several pen- names Genung, Eko, Ato and Ahaswar.

In 1897 he was posted to Little Snowy State School where he decided to dispense with the use of corporal punishment and really began to enjoy his teaching. He was involved in the community with the establishment of a Farmers' Group and a circulating library.

In 1899 he returned to Dimboola and swore off the "fast life" he had enjoyed on his previous appointment when he would drink all night and play cards until dawn.

In 1904, with 120 pounds, he embarked on his Wanderjahr across Europe returning again to teach at Dimboola. It was here that he serialised his journey in the Dimboola Banner and this was later published as, Gumsucker on the Tramp, which sold
20 000 copies.

In 1911, Nathan married Jessie Harris, in Sydney, daughter of Henry Harris, a publisher and he was posted to Longwood State School, having worked as a relieving teacher around Victoria for several years.

Nathan and Jessie had three sons, Newman Laurence, Phillip Frederick and Lassalle Harris (father of Dennis).
Nathan had teaching appointments in Mitcham and Wangaratta before returning to Ballarat (Dana Street) in 1924 where he remained as Head Teacher until 1939.

Nathan was very community minded. He was President of the Ballarat Historical Society from 1933-1956; he wrote The History of Ballarat for the Centenary of Ballarat and was a Member of the Mechanics Institute.
During the years 1936-1938 he wrote and presented weekly radio broadcasts on 3BA, on the history of Ballarat and these were later combined as The Spielvogel Papers (still available for purchase at the Gold Museum).
He was also a keen chess player and represented Victoria.
Quoting Dennis, Nathan kept his interest in history, education and literature.
Nathan Spielvogel died in 1956 and is buried in the Old Ballarat Cemetery.

Dennis???s talk was accompanied by family photos and like all good teachers, he tested us at the end - correct answers rewarded with peppermints!
Vistit to Ballarat of the Grand Bard of Cornwall
Berringa Church resounded with many old Methodist hymns for the Church service on Sunday 23rd March, with quite a few Ballarat Cornish Members attending.
Rev. Keith Lanyon was the preacher and pre-service singing was led by Wendy Benoit with Joy Menhennet playing the organ.
The Grand Bard, Maureen Fuller was in attendance and was presented with a posy of roses.
Following worship all enjoyed a true country afternoon tea and much fellowship.



On 24th March, 17 members gathered at the home of Jeff and Joy Menhennet to have dinner with the Grand Bard, Maureen Fuller.
It was a most enjoyable evening and Joy and Jeff were wonderful hosts.
Maureen is such a friendly and sociable person and all members enjoyed meeting and spending time with her.


February Meeting


In the Cornish Segment, Wendy Benoit informed us of the Data Base, now holding 1,604 names of Cornish settlers in early Ballarat, which has been compiled by Joy, Wendy and Ian following assistance from John Blanchard. Photographs will be included later. The Data Base will be used to assist people making enquiries about Cornish families when we participate in Family History fairs.
As an example Wendy spoke about her family member William Hicks -1830 - 1898, the manager of the Star of the East mine, who is featured in Cornish Pioneers of Ballarat volume 1. Extra information , now on the Data Base, details William Hicks suffering severe head injuries and concussion when a coil of new wire rope , weighing about two tons, slipped off the truck onto the tram line used for carrying quartz to the battery.
Wendy also spoke about Peter Ellis, featured in Cornish Pioneers of Ballarat

volume 2. Peter Ellis , the son of Thomas Ellis and Mary Davey was born 1816 in St. Just and married Nancy Robins in 1841. In 1852 Peter emigrated to Australia and evidently was fortunate as a miner as he sent for his family to join him in 1856. In 1863 the Ellis family returned to Cornwall , staying for about two years before coming back here in 1865. In 1866 they lived at Redan.
Wendy was thanked for her presentation.



Beryl Pearse

Guest Speaker
Our member, Beryl Pearse, spoke about her trip to Cornwall, in 2012, in company with a number of CAV members. Digital photographs highlighted her talk reminding many of us of favourite Cornish localities.
We saw St. Hilary's church where the vicarage is now divided into six apartments; Trevithick day at Camborne; 'Obby 'Osses at Padstowe; Port Isaac-better known to TV viewers as Port Wenn, home of Doc Martin; the Cathedral of the Moors at Altarnun; Trewint where Digby Isbell added rooms to his cottage for the use of John Wesley and other Preachers; Jamaica Inn; Trelissick Gardens reached on a zigzag track after a river cruise from Falmouth; Gwennap Pit; Trebah Gardens; the ruins of St Day's church followed by a welcome lunch at the Fox and Hounds; the Lizard Lighthouse; and Lanhydrock House. The final day was enjoyed at Helston for the Furry Dance with Howard Curnow and Ann Trevenen Jenkin.
Joy thanked Beryl and gave her a basket of fruit in appreciation.